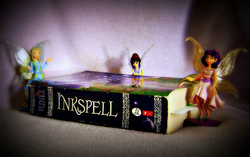 Of course, we're all excited about the film version of Inkspell, coming out this July. But what do we think we're going to see in the film? Who do we think will play Cloud-Dancer? Will Brendan Fraser continue to play Mortimer? What about Meggie Folchart? Are there any actors or actresses you specifically want to see in the film? Comment below and let us know!
Ad blocker interference detected!
Wikia is a free-to-use site that makes money from advertising. We have a modified experience for viewers using ad blockers

Wikia is not accessible if you've made further modifications. Remove the custom ad blocker rule(s) and the page will load as expected.