Inkworld
Talk

0
102pages on
this wiki
For the book trilogy, see Inkheart trilogy.
"Inkworld" is Meggie's nickname for the world within Fenoglio's Inkheart. This name later catches on and becomes its official name.
In Inkheart, Mo is shown to have the ability to read characters in and out of stories, and ends up reading his wife Resa into the dangers of the Inkworld, and accidentally brings four people out of the book, namely: Basta, Capricorn, Dustfinger and Dustfinger's horned marten, Gwin. Capricorn takes a liking to the real world, and ends up buying and/or stealing all the copies of Inkheart in the world. Capricorn, with his most loyal henchman Basta at his side, attempt a search for Mo, who flees with his three-year-old daughter Meggie. Dustfinger finds Mo and asks him to read him back inside the Inkworld, but Mo refuses and flees once more. For ten years, Mo takes Meggie with him and they move constantly from place to place to escape from Dustfinger, Basta and Capricorn. However, during those ten years Capricorn finds himself a man with the same powers as Silvertongue. However, this man (named Darius) stutters as he is scared of Basta and Capricorn, and ends up injuring everyone who he reads out. Capricorn finds himself henchmen in the real world, but makes Darius read out his mother, Mortola, and several of his henchmen and maids out of the Inkworld. At this time, Darius ends up reading Resa out of the book. Thus, the Inkworld loses more of its inhabitants. At some point after these ten years, Dustfinger finds Mo and brings him to Capricorn. Capricorn takes all the copies of Inkheart, including Mo's, and burns it, saying he never wants to return to that world. Even though the copies are burned, the Inkworld does not cease to exist. Capricorn, however, has one copy left and wants Mo to read out the Shadow, Capricorn's pet monster. Mo runs away with Dustfinger and a boy named Farid, and Basta finds out that Meggie has the same ability as her father. With the help of the Inkworld's creator Fenoglio, who Basta kidnapped, Meggie makes the Shadow despise its master, and Mo comes back, reading the final words that kills Capricorn. Fenoglio, however, was read into the Inkworld when the Shadow came out. In the end Dustfinger is read back into his story and Fraid ends up staying with the horned martian Gwin, meggie, mo, resea, darious, and elinor. find more about the life style and what will happen if they start and turn a new chapter in this freakish place on pages called the Inkworld.
In
Inkspell
, a man named Orpheus, who has the same ability as Mo, Meggie and Darius, reads Dustfinger back into the Inkworld. Orpheus claims that Inkheart was his favorite book as a child and that he loved Dustfinger, and was certainly glad to read him back into the Inkworld. However, Orpheus doesn't read in Farid, who wanted to go along, and is revealed to be working with another Inkworld character - Basta. However, Orpheus ends up reading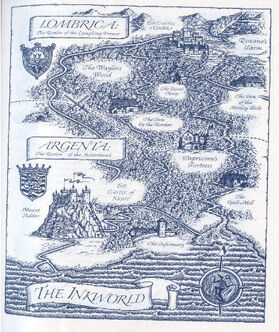 out a jungle cat from the Inkworld, who provides a distraction for Farid. Orpheus has the last copy of the book with him, but Farid takes the piece of paper Orpheus read from. Farid runs all the way to Elinor's house(where everyone is staying, including Resa and Darius),and tells everyone what happened. Farid begs Meggie to read him in, and Meggie agrees but only if she could come as well. Meggie reads herself and Farid into the Inkworld, and unknowingly reads in Gwin (Dustfinger's horned marten) as well.
Meggie and Farid find themselves in the Wayless Wood, a forest in the Inkworld, and they both set off. Mo finds three fire fairies in Meggie's room, and realizes that Meggie, Farid, and Gwin have gone to the Inkworld. Orpheus, however, with both Basta and Mortola, break into Elinor's house. Basta looks for Meggie, but Mo reveals that Meggie, Gwin, and Farid went to the Inkworld. Orpheus then plans to read Basta, Mortola, and Mo into the Inkworld, but Resa holds on to Mo, and all four of them end up in Capricorn's fortress in the Inkworld. Orpheus remains in the real world with his bodyguard Sugar and with Elinor and Darius. Capricorn's fortress turns out to be abandoned (as Capricorn and some of his henchmen were read out of the Inkworld) and Mortola finds out that her son is not alive in this world as she had hoped - and ends up taking her rifle and shooting Mo in the chest. Resa cries out, and Basta is surprised Resa has her voice back.
Meggie, with Farid, wander into the camp of the Strolling Players and meets the Black Prince. The Prince takes Meggie and Farid to Fenoglio, the author of the Inkworld, who was read into the book by Meggie at the end of Inkheart). Meggie and Fenoglio head to Fenoglio's house, where Fenoglio wants to tell Meggie something. Farid sets off and finds Dustfinger at a farm, owned by a former minstrel woman named Roxane, who turns out to Dustfinger's wife. Dustfinger's oldest daughter is now maidservant to Violante, and his younger daughter died. The Inkworld, however, has changed in the previous ten years, and is no longer continuing the way Fenoglio wanted it to be - Cosimo the Fair was killed by Capricorn's herald Firefox, who, along with those of Capricorn's henchmen who were not read out, joined the Adderhead. The Laughing Prince became the Prince of Sighs after Cosimo's death; Violante, the Adderhead's first daughter, ends up marrying Cosimo and has a son named Jacopo, thus tying both kingdoms together as Jacopo is the heir to both kingdoms; Fenoglio works as a storyteller in the Inkworld and makes up a character named the Bluejay, a character who is said to be the Adderhead's enemy, who looks just like Mo. Because of this, Mo is hunted by the Adderhead. Meggie uses this to her advantage to save Mo from Death. Mo is kidnapped and taken as someone to be executed by the Adderhead. However, Fenoglio, with Meggie's help, create a double who looks just like Cosimo. Brianna falls in love with the fake Cosimo, but the fake Cosimo is then killed by the same person who killed the real Cosimo - Firefox. Mo binds a book of Death, and anyone whose name is written in there will be immortal. The only way for that immortal to die is if someone wrote 'Heart Spell Death' in the book. The Adderhead releases Mo and all the prisoners in the dungeon, but then sends his men and Basta after them to kill them all. Dustfinger and Farid end up aiding with the powers of fire, but it ends up raining. Mo fights like a killer who has killed since the day he was born, and gains respect. Mo kills many of the Adder's soldiers. Basta kills Farid, and Mo kills Basta.Death and the White Women gain Farid's soul, but Dustfinger gives his life to the White Women, who in turn give back Farid's. Roxane is furious that after gaining Dustfinger back after all these years, Farid has taken him away. Farid tells Meggie to read out Orpheus, and Meggie does so. Orpheus, however, claims that he'll read Dustfinger back to life later, but now he wants to check out the Inkworld. Orpheus wants Farid to be his servant, and if Farid says no then Orpheus won't read Dustfinger back. Farid then sets off with Orpheus.
In Inkdeath, Meggie is furious that Farid won't even come see her, as Farid is too busy catering to Orpheus' needs. Orpheus becomes a rich man by creating mythical creatures and reading them out of their stories and into the Inkworld, and then sells them to Milksop, a criminal and the Adderhead's brother in-law. The Inkworld now changes even more because of this, as there are now creatures in the Inkworld who don't belong there. Meggie ends up falling in love with an inventor named Doria, who asks Meggie for ideas from her world so he could make them here. Elinor, who is in the real world, persuades Darius to read them both in, and Darius successfully reads them both into the Inkworld without any injuries whatsoever. Elinor and Darius catch up with Mo, who is wanted by the Adderhead as the Book of Death is dying of mold. Orpheus sends Mo to his Death, but Death himself sends both Mo and Dustfinger back if they can kill the Adderhead. Orpheus flees to Mount Adder, claiming he brought Dustfinger back to life. Dustfinger's fire powers increase, and he becomes Mo's shadow. Mo spends sometime with Resa, and ends up making her pregnant. Jacopo gives Mo the book of Death, and Mo writes the three words and kills the Adderhead. The Piper then attempts to take over, but those plans are thwarted by Violante. Jacopo steps down as heir and Violante becomes heir to both Argenta and Lombrica. Farid asks Meggie to come with him, but Meggie stays with Doria. Farid sets off, heart-broken, to explore the Inkworld. Dustfinger stays with Roxane and Brianna, who was fired because she slept with Cosimo (the double/fake one), and Mo decides to live in the Inkworld with Elinor and Resa. Orpheus flees to the Castle of the Lake and stays there, as he becomes sick of the 'baby-ish' Inkworld he loved so much as a kid. Resa gives birth to a son, who yearns to live in the world where his father, mother, sister, great-aunt, and Darius were born, as he is sick of the Inkworld.
People who were read in or out of the Inkworld:
Edit
In Inkheart :Edit
- Resa (read in by her husband Mo )
- Two cats (read in by Mo )
- Unknown creature (read in by Mo )
- Capricorn (evil villian; read out by Mo )
- Basta (henchman; read out by Mo )
- Dustfinger (fire-eater; read out by Mo )
- Gwin (Dustfinger 's horned-marten; read out by Mo )
- Mortola the Magpie (Capricorn 's mother; read out by Darius )
- Flatnose (henchman; read out by Darius ) Injury: flat nose
- Cockerell (henchman; read out by Darius ) Injury: limp
- Several of Capricorn's henchmen (read out by Darius )
- Several of Capricorn and Mortola's maids (read out by Darius )
- Resa (read out ten years later mute by Darius ) Injury: muteness
- Fulvio (henchman; read in by Mo )
- Shadow (Capricorn's pet; read out by Meggie )
- Fenoglio (author of Inkheart; read in by Meggie /Mo )
In Inkspell :Edit
- Dustfinger (fire-eater; read in by Orpheus )
- Jungle Cat (wildcat; read out by Orpheus )
- Farid (read into the Inkworld by Meggie )
- Meggie (reads herself in)
- Gwin (Dustfinger 's horned marten; read in by Meggie )
- Fire-Fairies x3 (three fire-fairies; read out by Meggie )
- Mo (bookbinder; read in by Orpheus )
- Basta (henchman; read in by Orpheus )
- Mortola (Capricorn's mother; read in by Orpheus )
- Resa (returns to the Inkworld; read in by Orpheus )
- Cosimo look-alike (read in by Meggie )
- Orpheus (believes he read himself in; read in by Meggie )
In Inkdeath :Edit
- Leaf-Men (created and read in by Orpheus )
- Several other weird and new creatures (created and read in by Orpheus )
- Darius (reads himself in)
- Cerberus (read out of his story by Orpheus ; read into the Inkworld by Darius )
Geography
Edit
Main Article: Inkworld geography